Product Technical Data
PDF File - Opens in a New Window
Product Installation Guide
PDF File - Opens in a New Window
Product Fiche
PDF File - Opens in a New Window
Product Maintenance Manual
PDF File - Opens in a New Window
Anzi 90cm x 50cm - Brushless Motor Ceiling Cooker Hood - Black
LA-90-ANZI-BR-BLK
| | | | | | | |
| --- | --- | --- | --- | --- | --- | --- |
| | | | | | | |
| Slimline Motor | | Remote Control | | 6 x 1.2w LED Lights | | 800m³/hr Brushless Motor |
Introducing the latest upgraded version of the beautifully designed 90cm x 50cm ANZI ceiling hood, completed in a beautiful matt black and finished off with 6 x 1.2w LED spot lights to illuminate your cooking area below. Installed flush within your ceiling, it is discreet and space-saving, while fitting elegantly into your kitchen design.
The ANZI, like all of our ceiling hoods, is so easy to install, either pop it into your ceiling or simply lower a box section on your existing ceiling and fit the hood in the same way and now with dimmable lights as an option, you can set the mood for any dinner party with family or friends.
Fitted above any sized kitchen island, this discreet and sleek 60cm ceiling cooker hood will make sure any medium or large sized kitchen will be odour free and clean before you know it and for any lingering odours, or if you are preparing everything for your sunday dinner, simply use the 'boost mode' to cleanse the air on maximum power for 10 mins, before it will automatically revert back down to speed 2 setting.
Available in 3 colour choices of White, Black or Stainless Steel, as well as the 3 size options of 60cm x 60cm, 90cm x 50cm or 120cm x 30cm, you are sure to find the perfect look for your designer kitchen.
The ANZI (60 x 60) and (90 x 50) BR range of ceiling hoods, now all include our new A++ rated brushless slimline motor, and as an added bonus, this can also be removed and relocated with our Remote Motor Kit option, that allows you to place the motor in an adjacent room or area, like a cupboard, loft, garage, or box section to reduce noise within your kitchen area if required.
The Remote Motor Kit is a seperate purchase, please see REMOTE-MOTOR-BOX-BRUSHLESS to add this option.
Please view our Ducting and Vents Section before making a purchase too, so you know which components are available and to add any additional equipment you may require to help you duct out your ceiling hood correctly. For optimum performance, this hood must be installed on a minimum 6" / 150mm round ducting or our 220mm x 90mm rectangular equivalent. This will allow for the highest extraction rate possible for your hood and aid in reducing noise from the motor
We recommend that this hood is not installed higher than 2 metres above your hob.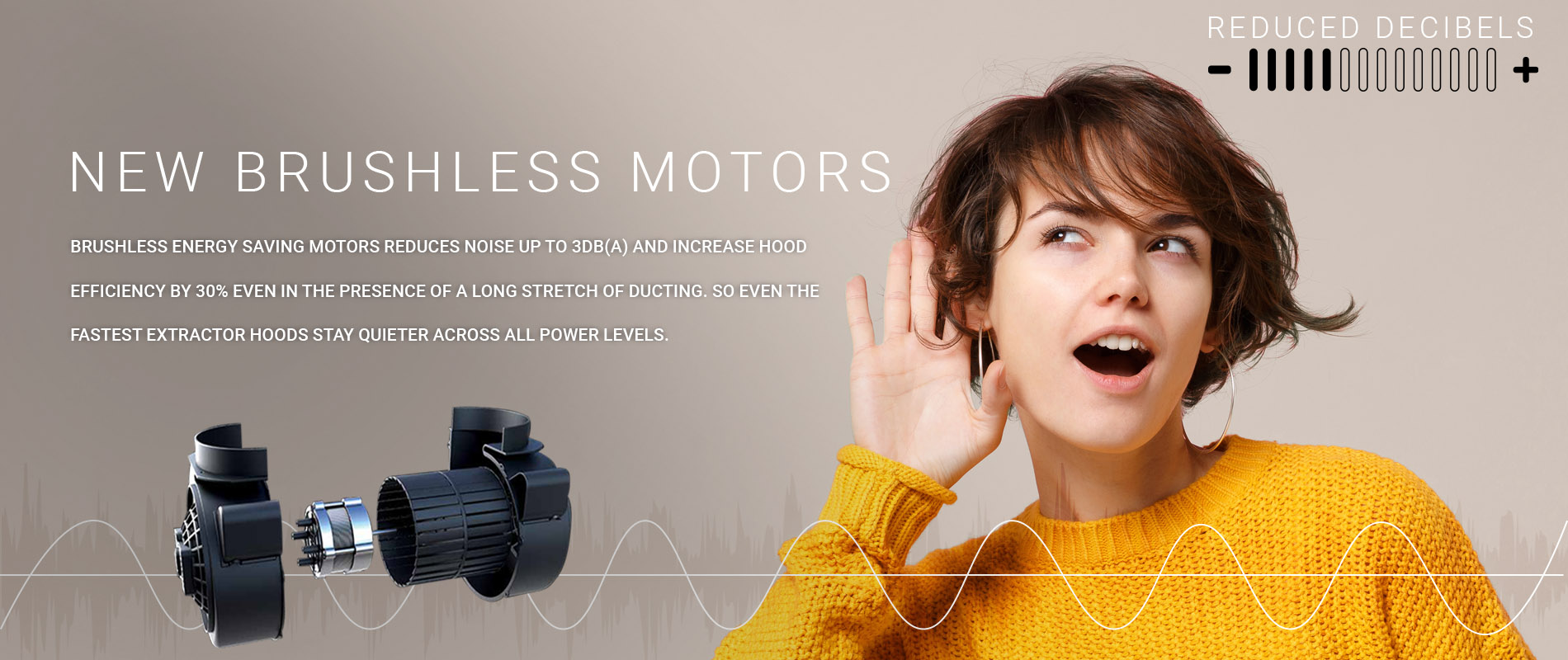 Brushless Energy Motors - Reduces noise up to 3dB(A) and increase hood efficiency by 30% even in the presence of a long stretch of ducting, so even the fastest extractor hoods stay quieter across all power levels.
The Brushless BLDC Motor - Guarantees considerable energy saving coupled with high extraction efficiency. They consume 85% less than conventional electric motors at low-medium speeds (in kW/h), and 35% less at high speeds. They are also the most silent-running motors on the market today and guarantee stable performance under all operating conditions. The motor also makes the extraction more precise in speed and are more durable than a traditional brush motor.
Energy Saving
Generally, the efficiency of brushed motors is limited within the range of 75% to 80%, Brushless motors are capable of up to 90% efficiency.
The sound and heat produced by a brushed motor essentially represent power losses from the device, taking energy away from the rotor. In brushless motors, the amounts of sound and heat produced are greatly reduced, resulting in significantly higher efficiency. There is still some energy loss due to air friction as the rotor rapidly rotates, but this is minimal.
Quieter Motor Operation
Friction and electrical arcing between brushes and commutator plates in brushed motors produce substantial motor noise. In brushless motors, the job of commutation is carried out by an electronic circuit, resulting in much quieter operation at a lower pitch of sound.
Although the rapid rotation of the rotor still creates the characteristic "whirring" sound, it is still a huge improvement over traditional brushed motors.
Longer Life Motor
The brushes in brushed motors are gradually worn away with use since they are in constant contact with the. Brushless motors do not face this problem, which drastically increases the life span of the motor.
90cm x 50cm Brushless Motor Ceiling Hood - Black
£1,099.00

£799.00

Ex Tax:

£665.83
Related Products