Cooker Hoods - Explained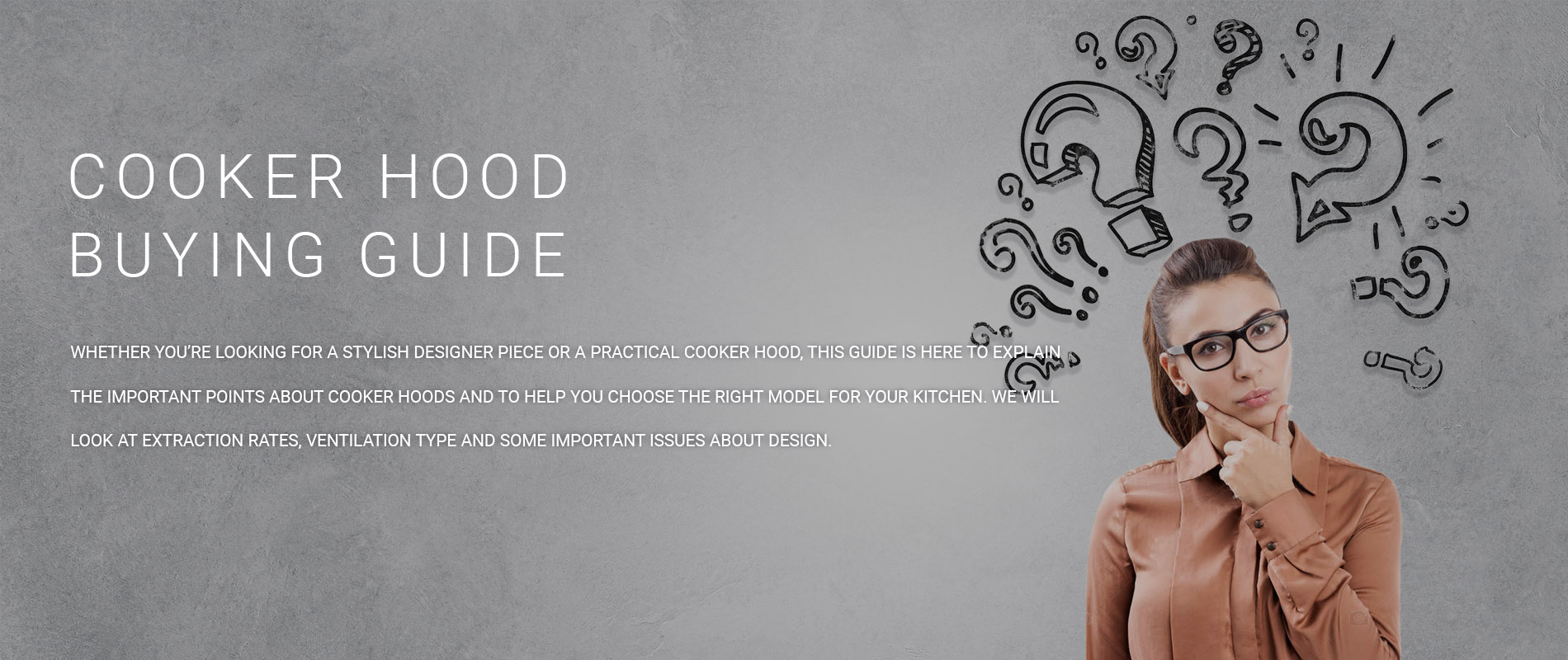 Your cooker hood is the filter of your kitchen. It removes any grease or smoke from the air when you're cooking to keep your kitchen environment as clean and healthy as possible.
Choosing your extractor...
Choosing your cooker hood doesn't just come down to function, but the finishing touch that it gives to your kitchen too. It can stand out, blend in or be completely hidden until you need it. With so many sizes, shapes, and style, here's an essential guide to choosing your cooker hood.
There are two different types of cooker hoods and the difference between them is what they do with the air from your cooking: ducted hoods take the air outside, whereas recirculation hoods filter it and circulate it back into your kitchen. When recirculating, the cooker hood will not extract as it has nowhere to take the air.



Ducted Hoods
Pros:
They are more effective at removing the cooking smells.

They are designed to extract to the external of the property, meaning most of the grease/condensation and smells will be removed from the kitchen area.

They will be cheaper in the long run, as you do not need to regularly replace charcoal filters.
Cons:
You need to think about where the duct is going (e.g. directly on the wall behind where the hood is fixed), otherwise you'll need to find a way to hide the ducting. You are also limited to how long the ducting can be (6 metres), is the normal limit if using 6" ducting and much less if using 5" ducting. It is never advised to use 4" ducting unless otherwise stated by Luxair.



Recirculation Hoods
Pros:
Easier to fit than extraction hoods as they don't need a duct to the outside.

Could work out cheaper initially but you will need to replace the charcoal filters every three months.
Cons:
Not as effective as ducting externally.

Grease filters will need replacing periodically.

Carbon or charcoal filters are more expensive and do need replacing regularly, so this is a cost which needs to be factored into your decision.

A recirculating hood will never be able to extract smells/condensation out of the kitchen.

Depending on the cooking style, a build up of grease can occur on the motor casing and metal grease filters, if frequently cooking with a lot of oil.

When cooking food with a strong smell these will remain in the kitchen as only some of the smells are collected by the charcoal filters.
Integrated Hoods
If you want your cooker to remain hidden when not in use, then you will need to look at integrated styles when choosing your cooker hood. They are usually hidden behind a door panel so that they look like a normal wall mounted cabinet from the front and they are operated by a switch or handle to use.
Cooker Hoods With External Motors
If space is lacking for you but a hidden cooker hood is still a priority, then a cooker hood with an outside motor cooker hood is ideal. Luxair offer the very best in cooker hoods with external motor units, all our outside motor fans are made from the highest quality stainless steel and will not rust or pit when open to the elements, if correctly installed these designer great looking units they will last for many years. External motor cooker hoods can be fitted with the motor located in one of 3 different places, either wall mounted, flat roof or pitched roof. Installing the motor externally means that it can be located where the noise will cause less disturbance. This reduces the noise at the hood to a minimum. For a significant reduction in noise levels, the ducting system should be between 3-7 m long. Whether you are able to use an external motor will depend on the layout of the kitchen, the type of ducting and how it is installed and the cooker hood itself.
Canopy Cooker Hoods
Canopy Cooker Hoods from Luxair offer discrete powerful extraction with LED lighting and can be installed directly into a kitchen cabinet or concealed unit. We have 52cm, 54cm, 72cm, 74cm, 86cm and 120cm available in black, white or Stainless Steel.

Our canopy hood range have the best extraction rates including our new Lusso canopy extractor with a massive 1350m³/hr motor, 4 times more powerful than the average extraction rate available in today's market! Each canopy hood now has a video section in each product.
Wall Mounted Chimney Hoods
Chimney cooker hoods are for those who want to make it the feature of their kitchen. Fitted onto walls either alone or between kitchen cabinets, chimney hoods are often made from stainless steel to look aesthetically pleasing.
Hidden Downdraft Cooker Hoods
Downdraft cooker hoods and Down draft induction hobs with built-in extractors are designed to extract your vapours downwards under the kitchen cabinets, its a very effective alternative way to hide your ducting through the floor keeping the clean open lines of your kitchen. The new Arcus induction extractor hob is truly brilliant and offers far more scope than our competitors, fits direct into any 1000mm x 600mm base unit and can be used against a wall or island unit, one of the most powerful downdraft hobs on the market.
Downdraft Induction Hobs
Luxair have now developed and revolutionised the way you can extract, with many kitchens now being open plan the demand for exceptional designer extraction is high. The all new range of extraction consists of an induction hob, with built-in extractor, known as downdraft, the reason is quite simple, the vapours are drawn downwards rather than upwards.

The advantages of an induction downdraft are that they are easy to clean, easy to install, and less noisy extraction. When ceiling hoods are the only option for open plan kitchens we often find that beams and ceiling heights are restrictive in the choice of what is available in the cooker hood world.

Luxair have now combined your hob with an extractor, extracting airflow and odours down and away under your kitchen cabinets, these can be vented directly outside under the kitchen plinth line.
Designer Hoods
There's standing out and then making a statement, the latter is what a designer cooker hood does. Functionally, they aren't any different from an ordinary hood, but their style is perfect for a contemporary kitchen.
Island Hoods
If you have a kitchen island, then choosing your cooker hood may be easy. Island hoods are specifically designed to hang from the ceiling above your hob on your kitchen island; they are a design wow to any kitchen.
Ceiling Hoods
Ceiling cooker hoods. Luxair are leading the way in ceiling hood development, many of our ceiling extractors literally blend into the ceiling!

How much of a feature these innovative products can be is completely up to you!
We have a wide range of different ceiling hoods to meet your needs. We have large models for larger open plan kitchens and also small ceiling hoods designed for smaller kitchens. All our ceiling hoods have LED lighting and many can now be recirculated using charcoal filters.
Pendant Ceiling Hoods
Pendant cooker hoods are deigned to look like modern contemporary hanging lights. Hidden inside is a very powerful re-circulating air filter system that will clean and purify the air before releasing it back into the kitchen. These extractors cannot be ducted to the outside wall due to the sleek design. Slimline in design these new trendy cooker hoods are now very much in demand, Luxair are proud to be the only manufacturer who have created a small range of pendant hoods in a bigger than normal size to our competitors. We have both fixed pendants and a pendant unit that rises and moves the hood out of the view line.
All our suspended hoods have a easy use filter system that will clean the air and will last upto one year before you will need to replace them, don't worry the hood will let you know when you need to do this!
Please also note that we at Luxair can produce any of these hoods in the colour of your choice including copper or brass finish paint, simply send us the European Ral Code and we will make it for you in that colour* (delivery times are estimated at between 4-12 weeks from order).
Final things to consider before choosing your cooker hood
The rate of extraction
Check that your cooker hood is the right size for your room. Find one that filters the air 10 x every hour at least. To estimate whether this rate is right for you, calculate the volume of your room (width x length x height) and then multiply this figure by 10 to get the 10x/hour circulation rate. For example, if your room is 20m3, you'd need a cooker hood which circulates at least 200m3 per hour.
The type of light
Make sure you have the intensity of light that you want and you should also think about how easy it will be to replace the bulbs too! Please note we do not advise that you use your cooker hood as the main source of light. Whilst our hoods are designed to illuminate the area below, additional lighting is often required.
The switch/controls
Do you have a preference over click buttons, remote control or touch controls? Consider the pros and cons of each as touch-sensitive controls may not work as well when you have wet or dirty hands.
Style and size
Last but not least, check you have the right size and style of cooker hood for your kitchen. Ideally, the cooker hood should extend out at least three-quarters of the cooking area and be roughly the same width. Sometimes hobs and cooker hoods can be designed to go together too, so this is something worth checking with a designer.
So there we go.. I bet you didn't think that much went into choosing your cooker hood! While it can be a bit daunting at first, all you have to do is choose which type of hood you want first (extraction or re-circulation) and then look at styles.
Like we said, sometimes the layout and design of your kitchen can choose it for you anyway.