Ducting Silencers

Cooker Hoods Silencers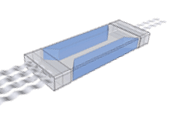 Why Do You Need A Cooker Hood Silencer?
Cooker Hoods Silencers, In the ever changing world of greater energy efficiency and more comfortable living, there has been a step change in the way designers and specifiers have addressed domestic ventilation challenges.
Most new homes now incorporate central ventilation systems whereupon individual rooms are connected to a central system utilising a heat recovery unit. This allows for the collection of warm moist air from the wet areas, say in the kitchen and bathroom, to be ducted to the central heat recovery unit whereupon the moisture content is reduced and the dryer warm air returned to other living spaces, such as the lounge and bedrooms.
One of the potential disadvantages to this network of ducting is that noise from the electric fan and mechanical moving parts can be transmitted along the duct runs and cause a noise nuisance to the occupants.
This issue has been recognised and addressed within the Approved Document F of the Building Regulations, which recommends from 1st October 2010, that measures be taken to minimise noise disturbance. This refers to the reduction of noise entering the building through the ventilation system, the external emission of noise outside the building emanating from the ventilation system and of course the distribution of noise generated within the building from ventilation fans and air movements through the ductwork.
Regulation 4.36 in particular, recommends that system designers should consider minimising noise by careful design and the specification of quieter products.
We at Luxair believe that the strategic positioning of one or more Luxair 204 Duct Silencers around the ventilation system will achieve this aim.
The Solution:
Cooker Hoods System 204 (204mm x 60mm) is currently the most popular duct size used in domestic central ventilation systems. This is because it is easy to install, is lightweight, has precise joints, a low profile and good airflow performance.
The new System 204 Silencers are available in three different lengths dependant upon the space available and the performance required. The silencers provide superb sound absorption over a wide range of audible frequencies.
For extraction ducting, the silencer should be installed in the ducting before it exits the room space and for supply ducting, before it enters the room space.
If space does not permit this, then install as close as possible to the extract or supply valve or grille.
Building Regulations:
The Luxair Cooker Hood System 204 Duct Silencers provide effective attenuation and can be used to achieve noise reduction in ventilation systems as recommended by Document F of the Building Regulations 2010 which came into effect on 1st October 2010.
---
Showing 1 to 1 of 1 (1 Pages)